Easily update your content.
CMS
(content management system) makes updating your site easy and gives you automatic upgrades to the latest web platform.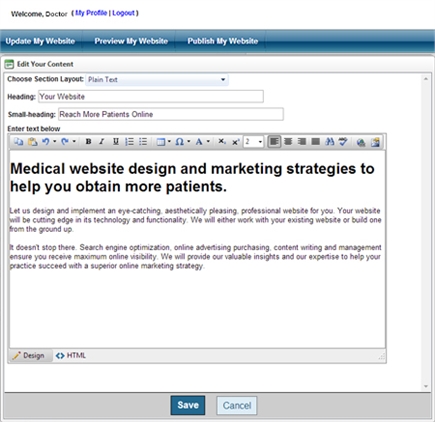 Use our easy-to-use editor to make updates.


Preview the changes


Publish the update.
Let MedForward make your website updates.
Save time by letting MedForward make updates to your website. With fast turn around times, your content is always current.


Content Writing Services
We can write original patient-oriented content for your website, utilizing our knowledge of your industry. Well-written, original, and organized content helps with SEO and makes your website a rich resource for patients.
Promotions and Enhancements
MedForward's experienced design staff can help you write and publish or distribute blogs, press releases, e-mail blasts, and other media and marketing materials. MedForward offers social networking set-up on popular sites including Facebook and Google
+
to increase your exposure on search engines.
Our most requested services include:
Our social media experts can help your company establish an optimized marketing plan for maximum exposure and offer consulting advice and assistance on the best options for promoting your business. Our content writing services offer professional, targeted content for your blog, newsletter, or social media page.
Manage Contact Requests
The MedForward Pages embedded contact request system lets you respond directly to potential patients using a set of e-mail templates that you can customize. Each new lead is recorded in the system and you can easily view your conversation history.
Website Tools
Many companies need more than the basic medical website or social media campaign to support their thriving business. MedForward offers several online tools to help your business succeed, including online stores,
secure online forms
, and a powerful CMS platform. Whether you need e-commerce solutions to sell your line of skincare products or HIPAA compliant online medical forms, MedForward can customize each option to fit your practice.