"I highly recommend MedForward. They have been pleasant to work with and did an excellent job optimizing my website for search engines. My website brings in new patients and has paid for itself. With the tools that Medforward provides my staff, they are easily able to keep it up to date."
- Roy Geronemus, MD
Past President of ASLMS and ASDS
Medical Website Design and Marketing Strategies to Help You Obtain More Patients
Let us design and implement an eye-catching, aesthetically pleasing, professional website for you. Your website will be cutting edge in its technology and functionality. We will either work with your existing website or build one from your specifications.

MedForward also provides search engine optimization, online advertising purchasing, content writing and management ensure you receive maximum online visibility. We will provide our valuable insights and expertise to help your practice grow with a superior online marketing strategy.
Two minute overview of MedForward

Narrator: When you work with MedForward, the professionalism of your practice will be communicated through your website. You will have an excellent website design and a superior online marketing strategy. Your website will contain the latest design and coding methods, be supported across all browsers and device types including smartphones, and become fully integrated with social media.
We値l help you build your practice with a comprehensive marketing strategy. We work closely with you to implement the latest design methods, helping your site rank as high as possible on Google, Yahoo and Bing. MedForward is exclusively medical. We can help you write, draft and revise your website content so that your website will fall into place and get to work immediately to start bringing in new patients.
The work we produce is highly professional. Our team is responsive to your requests, offering rapid turn around time. Our customers are extremely important to us. You値l benefit from a knowledgeable team featuring highly educated, award winning and experienced experts. We池e dedicated to your success and have been offering dependable service since 2007.
We can help you promote your practice with additional online channels including email, social media, news blasts and online advertising. You can easily update your content yourself, preview the changes and publish them with our content management system or send them to us, preview them and we値l update it for you. If you choose to update them yourself, you値l have an easy to use, online interface. We値l teach your staff how to use it.
You will benefit from working with a responsive, knowledgeable, dedicated team. You値l have a custom website that works on all devices. We offer a full range of services including design, development, search engine optimization, online advertising and other powerful tools (e-commerce, webmaster management) to help your website succeed.
HIPAA Compliant Secure Online Forms
Convert your forms to an online format that lets patients fill out registration forms before their visit.
Receive appointment requests securely.
Eliminate errors caused by messy handwriting.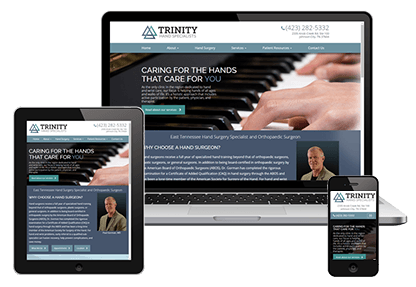 We build custom, responsive, professional
designs that adapt to all device types.
Representing Medical Professionals
We have been focused on providing websites, online marketing services, and secure online forms for health care providers since 2007. We are trusted by hundreds of physicians across the United States. Let us improve your online patient experience and grow your online presence with HIPAA compliant forms website tools, e-mail blasts, pay-per-click advertising, social media management, and SEO.