6/20/2022 The Link Between Online Reviews and Search Engine Optimization
Having good online reviews can indeed help improve your SEO. Customer reviews signal what real consumers have to say about a business. This consumer narrative is very valuable to your SEO campaign.

Search engines will see text descriptions from reviews as content relevant to your website. Google is looking to return search results that are relevant to its users. A fresh supply of positive reviews signal that your site is relevant to those searching for related keywords. Reviews act as a virtual word-of-mouth marketing strategy.

In 2017, the notion of reviews as a part of search engine optimization campaign gained solid traction. By 2022, online reviews are now considered a core component of an SEO strategy. Both the quality and quantity of reviews matter. There should be enough reviews relative to the size of the business. Furthermore, they should be legitimate customer reviews. To ensure search engines know the reviews are real, it's important that the reviews are posted on authoritative resources. For example, Yelp, Google My Business or Facebook count as authoritative review locations. But, in contrast, a small online reputation management company that posts a listing on their page will not have the same authority to Google. Likewise, posting the reviews to your own website directly will not help as much.

It's important that search engines know which business a reviewer is talking about. To ensure that your business gets the SEO credit for these reviews, businesses should claim all of their listing with prominent review sites and ensure their business name, address, website, and contact information is listed consistently across all of these platforms.

---
5/20/2021 Tips on How To Prevent a Ransomware Attack
Ransomware attacks have recently made major headlines including the Colonial pipeline attack. As companies resort to paying high ransoms to restore their computer systems, the hacker groups will have additional monetary resources available to initiate new hacking initiatives. These growing threats mean that protecting your business is even more important.

Backups
First, make sure that you have offsite backups. Hackers often will encrypt your systems and lock them out so you can't use them or recover the files without paying the ransom. By having a backup to restore, you can get your data back without having to pay the ransom.

User Training & Two Factor Authentication
Many attacks begin with phishing attempts that are challenging for employees to distinguish from legitimate emails.Training your employees on how to recognize these and procedures to employ will help prevent attackers from stealing login information. Two factor authentication, when used properly and combined with user training, can provide an additional layer of security.

Cloud Services
By using cloud based software as a service type products instead of desktop and system based services, hackers will have a more difficult time logging in and encrypting your data.

System Updates
Make sure to install the latest system updates and use only operating systems that are actively receiving security updates. Install the updates as soon as possible. These updates provide some protection against attackers.

Firewalls, Anti-virus Protection, and Other IT Security Measures
Make sure you have a separate hardware firewall, anti-virus software installed, and information security plan in place.

---
7/1/2020 Using MedForward Forms with Your COVID-19 Response
Contact MedForward to set-up an online screening form that can be e-mailed to patients ahead of their visit. Allow patients to complete all paperwork in a zero contact format prior to their appointment to reduce the amount of time they spend in waiting rooms. A secure online form submission tool can be an important tool for your organization's COVID response.

---
8/22/2019 The Importance of ADA Website Compliance
In 2018 ADA (American Disability Act) requirements that pertain to websites became effective. Websites now need to be accessible and functional so that anyone with a disability will be able to easily navigate the site.
We have already structured multiple client websites to be in line with the new ADA compliance law. Below you will find some of the guidelines that MedForward follows when making a clients website ADA compliant.
Comprehensive Alt tags on every photo describing the photo
Keyboard only navigation
Zooming in on website text will not break the site
Make sure the images represent the content around it
Make sure it makes sense when text is read aloud by a screen reader
Provide action buttons for all forms
Meaningful meta tags, titles and descriptions
Any scrolling information such as animations must be pausable
Text transcript must be available for every video
All links must have purposeful names and avoid "more" or "click here"
Make sure that when CSS (design) is disabled the website is still logically structured
Strong styling to indicate which field is currently selected when filling out a form
Any CAPTCHA's have a visually impaired option
All fonts are readable and not too small
Color coding is not used to convey information on the website such as red text for "bad" and green for "good"
Website should not cause seizures or contain anything that flashes more than three times per second
The website should be intuitive so that those with cognitive impairments can still navigate
This list is not fully comprehensive, but it contains some of the important items to look for. If you are interested in learning more or would like us to optimize your website with ADA compliance in mind, please contact us.
---
5/30/2019 Updates Coming Soon
New and exciting updates are coming to MedForward HIPAA-compliant online forms!
The ability to send invitations for forms by e-mail and SMS text.
Upgraded layout configuration for forms.
Form analytics and upgraded reporting.
---
1/7/2019 Feature Enhancements
MedForward has enhanced the overall user experience for our HIPAA-compliant online forms program.
Support for managing larger numbers of forms.
Better inbox search.
Zip file downloads of attachments and form groups.
Customize confirmation e-mails for each form.
---
9/27/2018 Improvements to User Management
MedForward has improved the online forms interface for user administration.
Addition of a notification management page for each user.
Automated e-mail notification administration for certain user modifications.
---
7/19/2018 MedForward Wins Clutch Award.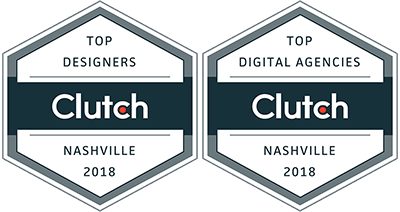 Every year,
Clutch
releases the results of their extensive research ranking companies across numerous service offerings. The conducted research aims to measure the integrity of client-firm relationships in attempt to match potential business decision makers with the tools needed to make better partnering decisions.
We are excited to announce that MedForward has been recognized as a leading service provider in Nashville in multiple service offerings. More specifically, Clutch named us a top web design firm in Nashville as well as a top internet marketing company in Nashville
!
---
6/26/2018 New Video Showcases Secure Online Forms
MedForward's new video features the benefits of switching to HIPAA compliant secure online forms.
Displays how the patient intake process is expedited
Explains how time and money can be saved
Brief explanation of form building process
Highlights the capabilities of the online forms system
Watch the full video
here
.
---
4/19/2018 New Features Available in MedForward Forms
The new software features added include:
enhancements to our API for better integration,
allowing easier partnerships with EHR companies through enhanced functionality, and
improvements to field auto-population for a better patient experience.
---
2/10/2018 MedForward Celebrated for Business Achievements
MedForward received the NBIC award at the luncheon on January 25th, 2018. The award celebrated business achievements from MedForward that included:
Steady and measurable growth over past 5 years,
Improvements to MedForward's software, and
recognition as a growing employer in the Nashville area.
---
8/15/2017 New Features Available in MedForward Forms
MedForward Forms has been expanded to include:
Upgraded API functionality
Pain Diagram Support
Improved Login Notifications
The pain diagram support is a great new feature for Orthopedic offices or chiropractors. It allows the user to create a set of custom brush types for different types of pain. Please contact us for a demo.
---
3/31/2017 New Features Available in MedForward Forms
We are happy to announce that MedForward Forms now supports several key new features including:
File upload (with image compression)
Additional security step with SMS
SMS based notifications
Bulk edits
API for easier integration with other software
---
12/21/2016 Adding Two Factor Authentication to your Servers and Services
To enhance the security of your systems and computers, MedForward is pleased to offer a service you can install on your computers and add to web services which adds a second layer of authentication (2FA) to login so that remote connections can be secured. Please contact us for a complimentary trial and pricing information.
---
9/01/2016 The Different Methods of Secure Online HIPAA-Compliant Patient Intake
Whether you run a dermatology practice or a dental office, creating a way to manage patient processing online can save you time and headaches. That's why, to streamline your patient intake, you need to choose the right secure, HIPAA-compliant option for checking in your patients. Here's a look at two options available to you, as well as tips for deciding on which is best for your needs.
Options for Patient Intake
When it comes to checking in patients at your office online, you have two different secure, HIPAA-compliant options available to you:
Virtual PDF Forms: We have the ability to fill out and sign a document as a virtual fillable PDF, using pdf.js library.
HTML Documents: We can have the form be fillable as a responsive or traditional HTML document, and the completed form as a custom matching PDF or dynamic PDF.
How to Know Which Option Makes the Most Sense for You
To help you choose between these two online options, here's a look at a few fast facts about their advantages:
If your document contains a lot of text or it's important how it matches your current form when filled out, we recommend the fillable PDF mode.
If your document is only important how it appears when completed, then we recommend fillable HTML mode.
If your document changes very often, we recommend HTML fillout with a dynamically generated PDF file.
Advantages of Moving Online with Patient Intake
If your office has been using traditional paper forms for years, you may wonder why going online is so valuable. Here's the thing: switching to online patient intake can streamline your office processes and improve the service you offer patients. Check-ins become faster and more accurate, and your office runs more smoothly. Consider some of the key advantages of using an online system:
Save on the expense and time of mailing paper forms. Deliver them more timely.
Have a way to e-mail patients a link to the forms.
Let patients access the secure online forms from the website.
Still have the option to use a paper system if you desire - you can print the completed PDFs from patients.
Or, you can skip scanning them, avoid hard-to-read handwriting and streamline office process.
Are you interested in learning more about secure online forms and how they could improve your practice? Contact us today to talk about it!
---
4/20/2016 Recent Google Changes—and Why They Matter for Your Practice
If there's one thing you can count on with Google, it's that it's always changing. With that in mind, MedForward is prepared to offer you some valuable insight into the current developments in the world of SEO and what they may mean for practices like yours. Here are some highlights:
Local Search Is More Competitive Than Ever. Because of the potential power local searches offer (leading up to 50 percent of mobile visitors to physical locations within 24 hours), earning those coveted top placements is getting harder and more competitive. Local search packs in the SERPs show fewer listings, meaning you have to rank in the top few if you're going to be seen. On top of that, the results that rank highest are dominated by Adwords Ads, enough so that if your ad is not in a top three ad positon for a related search, chances are you won't be seen by potential patients.
Organized Data Matters. Recent Google updates have made search results with rich snippets very important; that term is used to describe structured data markup that site operators add to their existing HTML, and are going to rank higher in the days ahead.
Mobile Matters. In a world increasingly dominated by smartphones, it's no surprise to say that mobile matters but it's going to matter even more in 2016. Now is the time to make your website mobile if you haven't already—with a large percentage of users accessing websites on their mobile devices, there's a huge segment of the population to be reached. If you want to discuss getting your website mobile, contact us today to start the conversation!
---
1/11/2016 Exciting New Form Features
In 2016, MedForward expanded our secure online forms solutions to include some exciting new features. These features include the ability to map your responsive HTML form to a custom PDF form. Also, patients can now fill out a form in a fillable PDF format. MedForward Forms also now support an ink style signature. If you're interested in adding these features to your current forms, please give us a call or contact support@medforward.com.
---
10/21/2015 SSL Certificates and Why They Matter
Say you were at Starbucks going on Facebook and a hacker wanted to get your login info—if Facebook didn't have an SSL certificate, it'd be pretty easy for that hacker to take your password and use it to pretend to be you. Or maybe you're shopping online and giving your credit card number on a site—if that website weren't secure, a hacker would have no problem grabbing your information and using it to make purchases in your name. That's why SSL certificates are so important. They are what enable an encrypted connection that makes personal information safer and harder to hack.
What does an SSL certificate do for a website?
An SSL certificate encrypts a Web connection so that the information being transmitted doesn't get into the wrong hands. From website logins to credit card numbers, sensitive information is too important to put out there on the Internet without safeguards. An SSL certificate offers benefits such as:
It prevents hackers from being able to impersonate a website
It ensures that you are on the site you think you are visiting
It protects the connection, even on an unsecured network, so people can't intercept it and access data
It can boost SEO, as Google and other search engines value website security
Does your website need an SSL certificate?
In today's Internet world, security is vital. If you're dealing with any personal information, you need a way to secure it. While an SSL connection can increase the cost of hosting a website, it is absolutely worth it for e-commerce sites, businesses that process transactions online and sites transmit any sort of personal data.
How to identify an SSL connection
When you're on a website, the easiest way to know it's secure is to look at the URL. The https:// connection lets you know that you are connected to a secure website. Note, however, that not all SSL connections are the same. There are different methods for protecting a connection and different companies that perform the verification process. To show this to users, browsers sometimes have other identifiers, like a padlock on sites you're viewing on Safari or a URL highlighted in green when you're viewing it on Google Chrome or Internet Explorer. These extra measures can indicate a more extensive verification process was involved.
---
7/10/2015 Tips in Light of Latest Government Data Breaches
In light of recent massive security breaches of government employee's information, MedForward wanted to share with you several tips that could help you maintain secure data and protect your information. In total, it has impacted an estimated 21.5 million employees.
Below are some suggested ways to help maintain secure data within your organization:
- Deploy intrusion detection systems.
- Focus on setting up processes to avoid employees being tricked into revealing key password information.
- Make sure the best anti-malware and anti-virus solutions are in place.
- Provide adequate training to all staff on IT security.
(Posted 7/10/2015)
---
4/1/2015 Lessons Learned from Anthem Data Breach
As data breaches and internet hacks become increasingly more common, the importance of maintaining secure data continues to rise as well. The recent
Anthem insurance
breach that affected more than 120 million people who have used their health insurance services is one of the biggest healthcare hacks to date. There are several things that health care professionals and companies can learn from this data hack:
This breach is an example of both cybersecurity and HIPAA security's increasing importance.
The penalties imposed by the government for such security breaches are getting higher and higher, with hopes that these will help make companies more aware of the importance of securing patient's data.
Data encryption at rest (which MedForward offers) was not in use for this breach and is very important.
---
1/16/2015 - SEO Challenges Your Practice Could Face in the New Year
The new year brings new changes to Google and other search engines' algorithms. Staying on top of the best SEO practices is one way to help your practice's website rank well in search results.
Forbes.com
advises following these SEO best practices to stay ahead of your competitors:
Focus on semantic search instead of keyword search.

Instead of plugging in excessive keywords on your page, focus on user-friendly content that answers popular questions about treatments and procedures and offers expert advice on your topic.

Target local SEO.

Don't overlook local SEO opportunities such as Google My Business for getting your name out to new patients, particularly those searching from mobile devices for services in their area.

Build relationships, not links.

Whether you're building relationships with your patients who in turn leave positive reviews or connecting with other experts in the field that may link to you from their website or blog, these relationships carry much more value than hundreds of links from less reputable sources.

Focus on mobile-friendly content.

With the growing number of mobile users who use their smartphones and tablets to browse the web, it's important to keep your site mobile-friendly by optimizing the design for mobile devices and avoiding technologies -- such as Flash animations -- that may not work for all visitors.
---
11/10/2014 - CEO Michael Weiss Interviewed in The Tennessean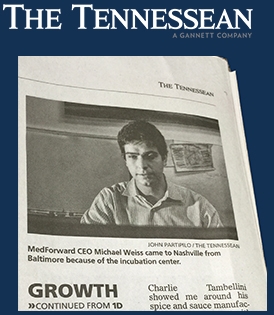 MedForward CEO, Michael Weiss, was recently interviewed in The Tennessean's article "
Nashville Incubation Center quietly fosters companies' growth"
by Jamie McGee.
The article discusses current businesses in the incubation center, including MedForward, and past businesses from the incubation center that have grown into successful companies.
Read the full article from The Tennessean
---
8/1/2014 - Google's Algorithm Updates Can Affect Your Site's Ranking
Google's latest set of algorithm updates continues to alter sites' rankings in an attempt to maneuver the highest quality sites to the top. Google has also made changes affecting local rankings to help users find more relevant local results.
Clearly communicating your practice's location through your website and social media, as well as keeping your site populated with timely and useful content can help keep your site ranking on the first page for relevant keywords, for both local and wider spread audiences.
What Constitutes a High-Ranking Website?
Trust-worthy, accurate information on your topics such as cosmetic procedures or medical conditions.
Site layout that is easy for both human readers and search engines to navigate.
Interesting content that readers find relevant and would want to share with others.
Quality links from high-ranking websites pointing to your site or webpage.

How Does Google Judge Local Ranking?
While Google's algorithm makes use of numerous factors to determine the best local listings to display for users, there are steps websites can take to ensure they show up for potential patients in their area:


Ensure the practice name or doctor's name, address, and phone number are displayed on important pages, such as the home page and contact us page.
Add contact information to the footer so it will be easy to find from any page on the website.
Keep all social media channels up-to-date with the latest contact information that matches the website.
Fill out social media profiles as completely as possible with contact information, business hours, and a description of your services.
Encourage patients to post online reviews of your practice.
Need help with search engine optimization or social media marketing? MedForward offers a variety of
SEO
,
online marketing
, and
content management strategies
to improve your website and attract more patients.
---
6/13/14 - Is HIPAA Antiquated?
Privacy advocates clashed with health IT buffs at a Substance Abuse and Mental Health Services Administration (SAMHSA) hearing over regulations on sharing patient health information. SAMHSA is considering whether or not to allow sharing health information more freely in certain limited circumstances.
Read the full article
---
5/16/14 - MedForward Listed Among Top 50 Web Designers in Nashville
MedForward was recently named among the Top 50 Web Designers in Nashville on Up City.
Read the full article here
.
---
5/13/14 - MedForward Now Offers CSV Export Option for Online Forms
MedForward has recently added the option for our secure online forms users to export patient form submissions as a CSV file to help integrate the data with the user's current system. Our system now supports viewing patient submissions as an HTML file, downloading the submission as a PDF, and exporting submission data into a CSV file.
Learn more about our secure online forms program
.
---
4/28/2014 - MedForward's Sponsorship Contributes to Advancing the Interests of Physicians in the State of Tennessee
MedForward attended the Tennessee Medical Association's "Bringing Medicine Together" meeting April 24-27 in Franklin, TN. The conference focused on bringing together medical professionals from across the state to address the many changes and challenges in healthcare today and to improve healthcare quality across Tennessee.
MedTenn 2014 Summary
---
3/7/14 - RealSelf Now Featuring Doctors on RealSelf TV
Doctors can now share their knowledge and expertise through videos featured on RealSelf's latest feature: RealSelf TV. RealSelf is one of the most popular resources for patients to find reviews of treatments, procedures, and doctors in their area.
---
---
1/27/14 - HIPAA Violations Cost Medical Practice $100,000+
MedForward continually strives to emphasize the importance of properly implementing HIPAA requirements. A Massachusetts-based medical practice has agreed to pay over $100,000 in fines for HIPAA violations after an unencrypted thumb drive containing electronic protected health information was lost. An investigation found the practice lacking in policies and procedures addressing breach notifications as required by the Health Information Technology for Economic and Clinical Health (HITECH) Act.
To avoid paying hefty fees, practices should ensure any information collected online is secure and keep staff up-to-date on company security policies. MedForward's
online forms program
complies with all HIPAA requirements for the collection of electronic patient health information (ePHI). Adding an online privacy policy for your website is also a key requirement.
Practices can learn more about the
Breach Notification Rule
through the U.S. Department of Health & Human Services.
---
12/19/13 - Google Announces HIPAA Compliance
Google now offers HIPAA compliance for its Gmail and Calendar apps, providing security for businesses dealing with electronic protected health information (ePHI). Google Apps administrators of business, education, and government domains can request a business associate agreement (BAA) with Google before they begin use of Google's services.
With more and more practices storing and sending medical information digitally, HIPAA compliance is crucial to protect patient data. Medical practices should always verify the vendors they use are HIPAA compliant.
Contact MedForward today
to learn how your business can save time and money by switching to our secure, HIPAA compliant online form system.
Resources
HIPAA Compliance with Google Apps
U.S. Department of Health and Human Services - Omnibus HIPAA Rulemaking
---
11/12/2013 - Managing Your Online Reputation
A bad online review can really hurt your business. It's important to respond to these reviews in a neutral, professional format, and invite them to contact you so you can correct the situation. In addition, many happy patients will not go out of their way to write a good review, so the bad reviews can be disproportionately represented. To counter this, we recommend creating a guide to give patients that includes instructions on how to provide an online review on RealSelf, Yelp (if the patient is active on Yelp or it will get filtered), Google, and any other applicable channels. And, have your patients take a satisfaction survey immediately after each visit so you can make sure you address any potential issues sooner rather than later. Patients may not always share how they feel with you if they are upset. Asking them can be a great way to start that conversation and resolve a mis-communication before it turns into a negative online review.
---
11/1/2013 - Advantages of RealSelf
We have seen great success with our clients taking advantage of RealSelf. It's social network designed specifically for cosmetic procedures and as a result has the highest ROI we have seen from marketing budgets items to date, when used properly.
---
9/23/2013 - New HIPAA legislation takes effect
Your deadline to update your HIPAA materials is today, September 23rd, 2013. This rule also expands upon the roles and responsibilities of Business Associates, such as MedForward, Inc. Please make sure you research this rule, update your privacy practices, and make sure your IT security is up to the new standards.
---
7/10/2013 - Latest trends in medical website design
What are the latest trends in medical website design and medical online marketing? Physicians are increasingly adapting to changing patient behaviors. Patients want to do more through their doctor's website, including fill out forms, use a patient portal if one is available, or access their doctor's website through their tablet or smart phone. To adapt, physicians are making their websites responsive, adding important features, and adding secure online forms.

In addition, website designs are including larger fonts as well as bolder and more creative color choices. Pictures and professional photography are playing a larger role in the design process. Videos and other types of multimedia are becoming increasingly common.